Share an unforgettable mountain biking trip in the heart of the French & Italian Alps.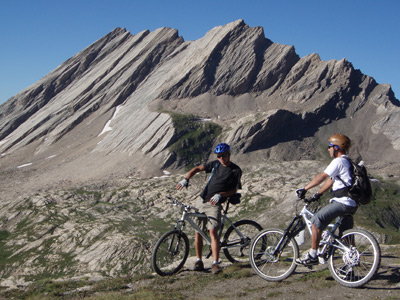 Our transfer service allows your crew to maximise the number of downhill drops. Our guides are all local montain biking legends, and can take you to spots you will never find yourselves; enduro, XC single track, and backcountry – we grew up here. You will experience an incredible down-hill adventure in awesome mountain landscapes, technically supported by a certifed mountain bike guide.

During your stay, you will be accommodated in pleasant B&B accommodation, with a sauna, jet cleaning, garden and everything you need for a great mountain bike trip. Other accommodation options are avalable depending on the budget and the number of people – please contact us. At the end of the week you will relax in the famous hot springs of Monetier les Bains
Recommandations
Confident biking skills and a good physical condition are necessary: Be able to ride on all types of terrain and handle extensive daily descents as well as a fair bit of up-hill.
Please bring
• A full-suspention bike - minimum 140 mm of travel front and rear.
• Basic repair kit (derailers, air chamber ...)
• MTB shoe with which you can walk in, flat or integral helmet, knee and elbow guards, back pack and water bag - think about bringing snacks (cereal bar etc).
The package includes: coaching by a certified instructor, bike transfers and technical assistance, accommodation, breakfasts and lunches.
The price does not include: Travel to Serre Chevalier, dinner and snacks, bike, equipment, and specific equipment to repair your bike.